PSLab Integration for OpenTAP
Summary:
OpenTAP is an open source test automation software created by Keysight Technologies that allows users to put their tests in a sequence of steps for automated testing. PSLab is an open source hardware board created by OpnTec and FOSSASIA that grants users a cheap, portable way to perform electronics tests. The integration of the PSLab board as a plugin in Keysight's OpenTAP software allows for measurements done with PSLab to be automatically collected and viewed in a series of test steps within OpenTap. This allows for ease of use for students trying to learn electrical measurement concepts using PSLab. We built a course around this idea so that students trying to learn these properties can have a more interactive experience while using modern open source technologies. We were able to achieve this PSLab plugin containing all of the onboard instruments available in the PSLab API and we created 23 test steps to interact with these instruments. We also built a course around the plugin that aims to teach students EE test and measurement concepts and building plugins with OpenTAP.
Project Image: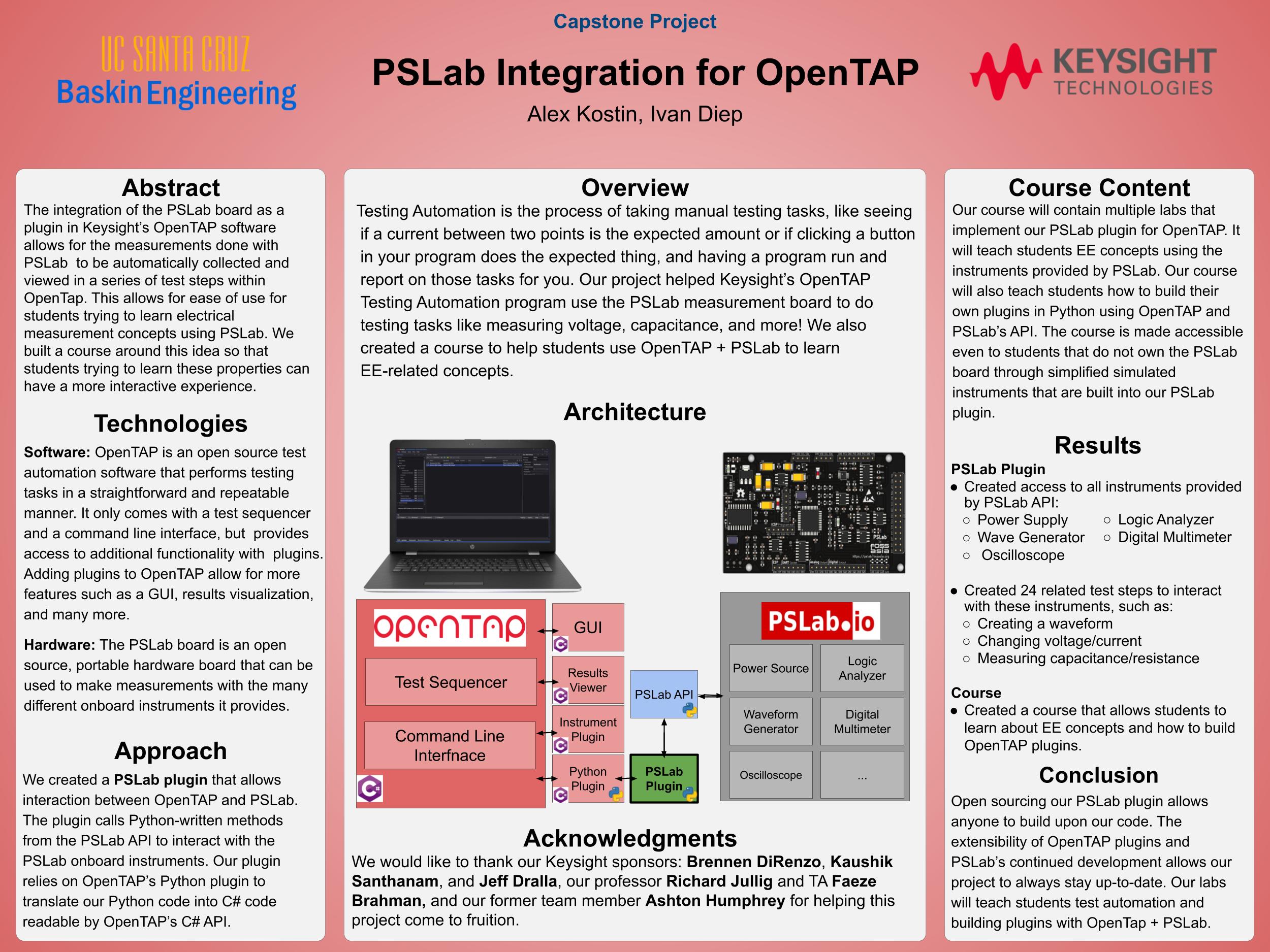 Team Members:
Ivan Diep
Bio:
Ivan Diep is graduating in June 2021 with a BS in Computer Science. He has particular interests in Full Stack Web Development and Application programming, and is planning to continue working with Keysight Technologies as a Software Engineer for OpenTAP.
Email: diep.ivan@gmail.com
LinkedIn: www.linkedin.com/in/ivandiep
Alexander Kostin
Bio:
Alexander Kostin graduated from UCSC with a BS in Computer Science this past March. He currently holds a full time Software Developer position at Epic Systems in Verona, Wisconsin, and believes that the software you write is only as good as its purpose.
Email: arkostin01@gmail.com
LinkedIn: https://www.linkedin.com/in/arkostin/
Other Partners Day 2021 Projects
Ransomware Detection
Spark IP Address API
Dell Cloud Garbage Collection
PSLab plugin for OpenTAP
GoGuard
NVMe-OF Characterization
Mobile Power Station
SlugSat
Portable PLA Spectrometer
Plastic to Fuel Portable Diesel Lab
Simple Sort - Automated Trash, Compost, and Recycling Bin
Automated Greenhouse
Autonomous Fog Water Collector
Dynamic Bicycle Safety
Passive Biosensor Suite
Facial Recognition Door Lock
Mood Tracking Biosensor
Affordable Piano Amplification