Simple Sort - Automated Trash, Compost, and Recycling Bin
Improperly sorted trash is a large problem that adversely affects the health of the environment. According to the United States Environmental Protection Agency only 32% of Americans recycle. To combat this problem we have designed a product to increase the rate at which trash is correctly sorted in a consumer environment.
Sorting is accomplished using image classification and a rotating mechanism that drops a trash item into the correct compartment. The design allows consumers to recycle and compost at home without having to know how to manually sort their waste, or taking the time to do so.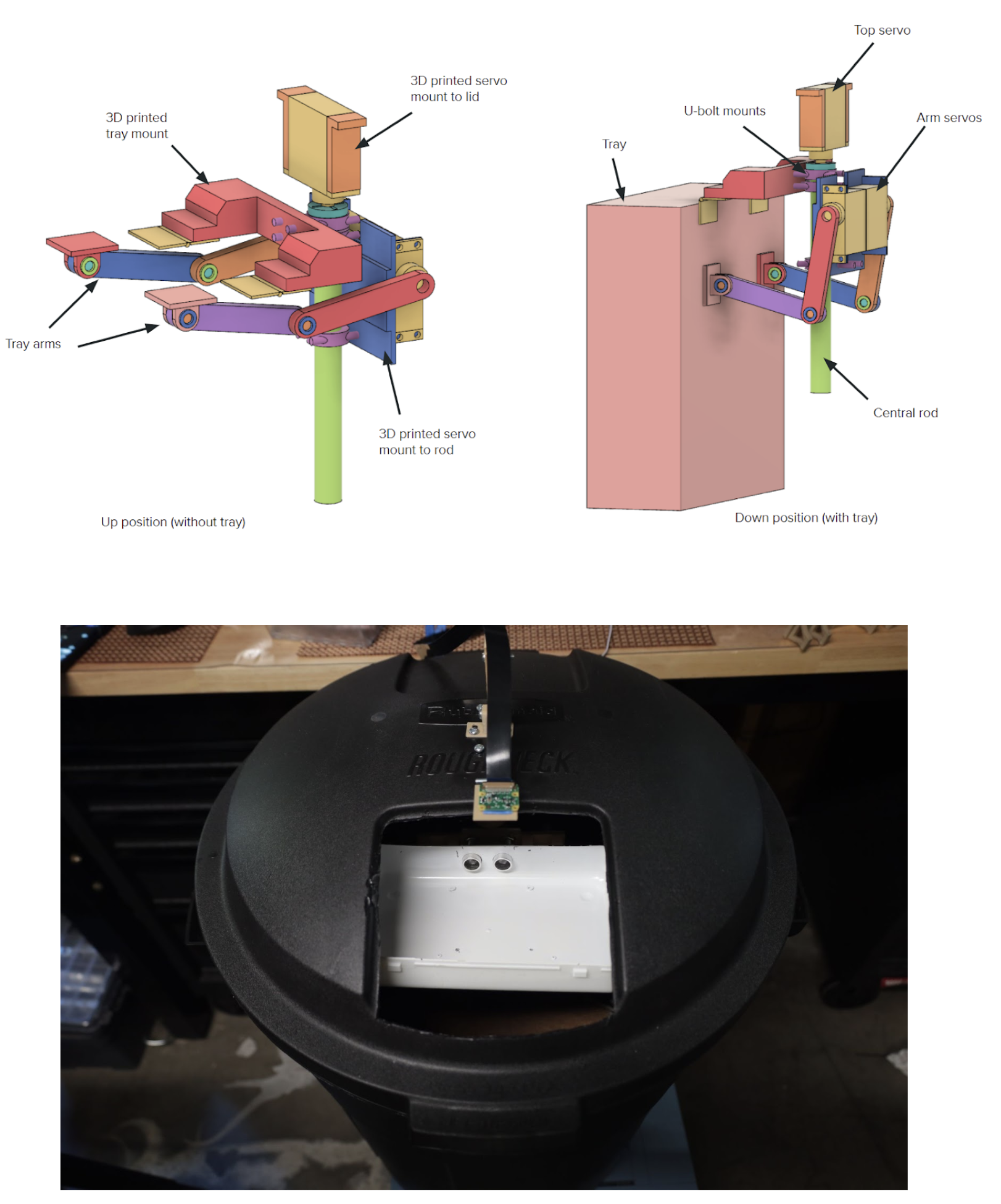 Team Members:

Brevan Chun is graduating June 2021 with a B.S. in Computer Engineering and will be starting a Masters in Computer Science and Engineering at UC Santa Cruz in the Fall.

brevan.chun@gmail.com
 
Justyn Duthler is graduating August 2021 with a BS in Computer Engineering with a concentration in systems programming, he has a particular interest in network and systems programming, and is looking to find an internship or entry level position in the fall. 

justynduthler@gmail.com
https://www.linkedin.com/in/justyn-duthler-b36a30167
https://github.com/JustynDuthler
 

Kevin Ryan is graduating June 2021 with a BS in Computer Engineering with a concentration in robotics and control. He has a particular interest in embedded systems and robotics. Kevin is interested in finding an industry career this summer.

kevin27ryan@gmail.com
https://www.linkedin.com/in/kevin-ryan-b02788161
 

Kevin Spence is graduating in December 2021 with a BS in Bioelectronics Engineering and a Minor in Computer Engineering. He is interested in system design and signal processing. 

kevinspen2@gmail.com
 

Shirley Phuong is graduating in June 2021 with a BS in Computer Engineering and a minor in Computer Science. She is interested in full-stack development and game development and is looking to find an internship or entry-level position in the summer.

shirleyp711@gmail.com
https://www.linkedin.com/in/shirley-phuong-97951a197

Trevor Carleton is graduating in June 2021 with a BS in Bioelectronic Engineering. He's interested in embedded systems and biotechnology. He plans to find an internship or entry level industry job.

trevor.a.carleton@gmail.com
www.linkedin.com/in/trevor-carleton-5a4461211
 
Other Partners Day 2021 Projects
Ransomware Detection
Spark IP Address API
Dell Cloud Garbage Collection
PSLab plugin for OpenTAP
GoGuard
NVMe-OF Characterization
Mobile Power Station
SlugSat
Portable PLA Spectrometer
Plastic to Fuel Portable Diesel Lab
Simple Sort - Automated Trash, Compost, and Recycling Bin
Automated Greenhouse
Autonomous Fog Water Collector
Dynamic Bicycle Safety
Passive Biosensor Suite
Facial Recognition Door Lock
Mood Tracking Biosensor
Affordable Piano Amplification